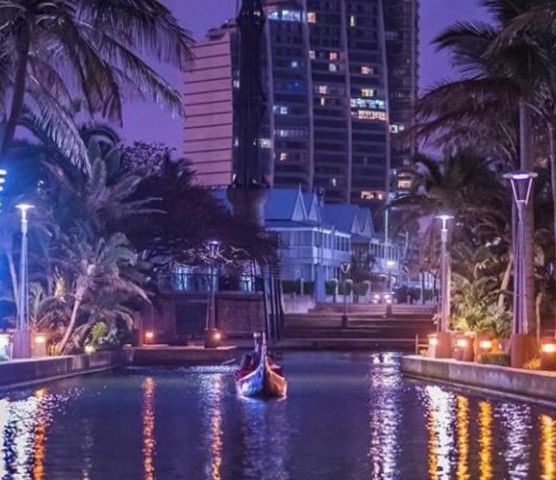 Magic Night Gondola Boat Ride
R280 per couple
Day Boat Rides between 10h30 – 18h00
Night Boat Rides between 18h00 – 20h00 (by reservation only)

Duration: 30 minutes
Cost: R280 per couple
Location : Durban Point Waterfront Canal
Don't miss out on this Magical Night Gondola Boat Ride. Looking for romantic things to do in Durban? Need some romance in your life – or maybe a little bit of magic for one night? This is an experience not to be missed! Treat yourself to a magical gondola boat ride down Durban's beautiful Point Waterfront Canal. Sit back and take in the stunning lights and bridges. Relax as you slip away from the hustle and bustle that is our modern life.
How it will work:
Board the Beautiful Gondola Boat at the Zulumoon Gondolas Dock – located on the Durban Point Waterfront Canal. You just need to be there at the time of your booking.
Our gondolier will be expecting you by name (no paperwork required)
Once you board – just sit back and relax as you take your ride down the stunning canal.
There are some beautiful bridges and scenery to enjoy along the way.
Don't forget to take some pics and most of all. Feel Far Away from it all.
We would love to share in your pics so please feel free to pop them into our facebook page.
Durbans Best Secret
You will be able to enjoy some of Durban's magic and take away a special memory with you. A real gem in Durban and definitely not one to be missed. So Don't forget to take some pics to share with all your friends. Capture the moment, make a memory and share your amazing pictures with us. Book online now and treat yourself to one of the most memorable and romantic things to do in Durban.
Our Magical Night Gondola Ride gives you something extra special and a wonderful chance to feel far away from it all. Be transported into another world and forget all of life's hustle and bustle.
SAY I LOVE YOU – with a difference
A great way to say "I Love You" and surprise that special someone. Or even have a really different and memorable evening with friends. So Why not? You know you want to!  Then Head on over to our Facebook or Instagram for some more amazing pics and #zulumoongondolas after your ride. We just love to see your amazing pics and comments. So Check us out on Trip Advisor or Google and drop us a line to let us know about your gondola time. There really is just nothing like a Zulumoon and YAY – it is right here in Durbs for you to enjoy!
Please Note: 
Children under the age of 3 years ride for free when accompanied by an adult.
High Season Rates will apply on Valentines Day